John Gregory 1831 - 1922
by Gerrard Sables 
JOHN GREGORY was one of Bristol's shoemaker-poets. Born in Bideford, Devon, apprenticed to a shoemaker at age 11, he was to become the writer of hundreds of poems and songs and a pioneer of the labour, socialist and co-operative movements.  
His five books of poetry deserve republishing and there are many poems that appeared once in a paper or songsheet. I found the following verses in Bristol library. I do not know in which publication it appeared as it was on its own.  
At that time the Bristol Socialist Society was thriving, holding public meetings each week. It is more than likely that this was sung at a meeting addressed by John Gregory after the general election of 1886. It would have been to support Gladstone's attempts to win Home Rule Bill.
Gregory developed into a mature socialist with a clear understanding of imperialism. He was also an early campaigner against the death penalty.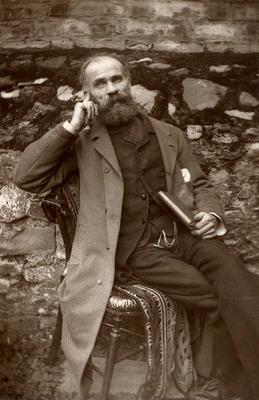 Ireland
Ye working men of England!
There is for you and I,
A question we should answer,
How now will you reply?
Out of my heart in sorrow,
Unto your hearts along,
All for the sake of Erin,
I send it forth in song.
You heard her cry for justice,
Did you for her relief,
Follow the giant Gladstone,
Britannia's glorious chief?
Or went you with the weaklings,
Who went the adverse way?
Give me your hands my brothers,
All who can answer nay.  
...
Now the fierce fight is over,
And Wrong her woe hath wrought,
Her foulest foes like bloodhounds
Have sprung upon her throat.
Did they not bite her badly?
No thanks to the vile pack,
We know it is their will too,
But Prudence holds them back.
I see her while I ponder -
Low on her stolen sod
Amid her heart-Hopes slaughtered,
Crying, O, God! O, God!
Is there for me no mercy?
No ending of my woe?
And must it be for ever -
As it hath hitherto?
When that I read her story,
I hate my nation's name,
My heart is sick with sorrow,
My cheeks are red with shame.
If Erin taught her babies,
To curse us on her knee,
And if her sons are Fenians,
Have they no cause to be?
We taught them with our tortures,
The hate they justly hoard,
When we made them rebels,
We cut them down with the sword.
And as I read her record -
Of wrong I hear with pain,
A shrill voice shrieking murder
To the clang of her iron chain.
O, Lord! what horrid pictures
Within that book abound -
As we plod through the pages,
From whence the first is found.
Down from the days of Strongbow,
Even unto our time,
Much have we sinned against her,
And great hath been our crime.
Her fat lands for the spoiler,
And not for her are sown:
Our traders crushed her commerce,
Lest it should harm their own.
When at her labour singing -
Poor Erin span her flax,
We turned her song to moaning,
We cursed her with our tax.
The whirring wheels were idle,
The merchant came no more,
But hideous Poverty instead
Crept in at the cabin door.
Too oft from such sad shelter,
Beneath a winter sky,
We drove her cheerless children,
To death, from want, and why?
The Lord would have his hunters,
His hounds, his coach, his wine,
His house was a fine mansion,
His fare both fat and fine.
Where that she starved to feed him,
He did not deign to dwell,
He spent her store on a lady whore,
In a sumptuous city hell.
His cup is filled with pleasure,
Hers is abrim with gall,
Her strength is spent for the robber's rent,
Poor Erin pays for all.
And in her hateful union,
Who dares my words refute?
John Bull hath been unto her
As a base wife-beating brute.
England gave cheer to Poland,  
And gladly wished her well,
When she rose on her tyrants,
We wept when Warsaw fell.
Unto the brave Hungarians,
Led by Kossuth the bold,
We shouted on! for freedom,
And of your right take hold.
And when from her foul fetter
Maddened Italia sprang -
God bless good Garibaldi!
We with her children sang.
Why then for poor old Erin,
Have we earned bitter blame?
Why for her do the nations,
To England cry out shame?   
This document was last modified by
David Granville
on
2004-08-24 13:07:47
.
Connolly Association, c/o RMT, Unity House, 39 Chalton Street, London, NW1 1JD
Copyright © 2001 Connolly Publications Ltd