FORMER GREEN MEP and prominent euro-critic Patricia McKenna presided over the launch in Dublin recently of a powerful new limited-edition print by leading Irish artist Robert Ballagh.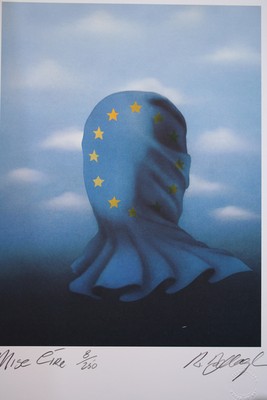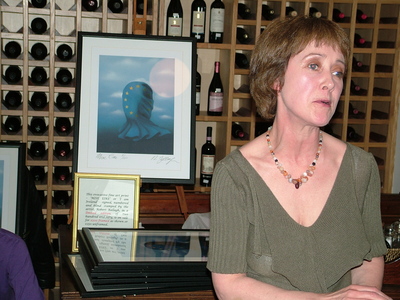 Copies of the print, Mise Éire, which symbolises Ireland's muffled and dependent state within the European Union, are available for sale priced €250 (unframed) and €300 (framed).
All 250 copies of the printare numbered, signed and blind-stamped by the artist.
The money raised will benefit the People's Movement, which campaigns against measures aimed at transforming the EU into a federal super-state and works to defend and enhance popular sovereignty, democracy and social justice in Ireland.
Robert Ballagh and Patricia McKenna are both patrons of the organisation. Other patrons include prominent Labour Party figure and Sligo alderman Declan Bree, Raymond Deane, Professor John Maguire, Terence McCaughey, Finian McGrath TD and the writer Dervla Murphy.
With 20 of the 25 EU-member states expected to have ratified the proposed EU federal constitution by this time next year, it is anticipated that pressure will grow on states like Ireland to hold a referendum and for the French and the Dutch to re-run theirs in an effort to induce voters to 'change their minds'. much in the same way that Ireland was 'induced' to change its mind over the Nice Treaty.
In Ireland, the proposed EU constitution can only be ratified following a successful referendum vote.
Copies of Robert Ballagh's Mise Éire print can be obtained from Frank Keoghan at 25 Shanowen Crescent, Dublin 9 or by calling 00353 87-2308330; priced € 300 framed, € 250 unframed, plus delivery cost, if applicable.
This document was last modified by
David Granville
on
2006-06-16 00:14:38
.
Connolly Association, c/o RMT, Unity House, 39 Chalton Street, London, NW1 1JD
Copyright © 2006 Connolly Publications Ltd