by Democrat reporter
AN INITIATIVE to ensure that this year's St Patrick's Day celebration includes a strong anti-racist message was launched earlier this week with the release of 'Everybody's Welcome to the Hooley' by north London psycho-ceilidh rockers, Neck.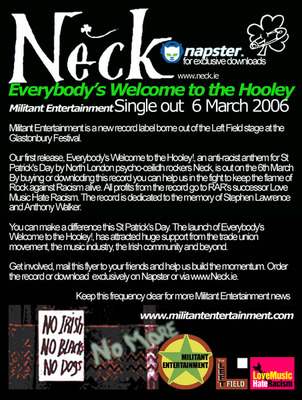 The initiative has brought together musicians, trade unionists, campaign groups and members of the Irish community in a joint effort to to lift the song into Top 40 music chart by 17 March.
Major artists such as Hard Fi, the Magic Numbers, Lethal Bizzel and Billy Bragg are among those to be supporting initiative, as is Strummerville, the official website of the Joe Strummer Foundation for New Music.
Released on Militant Entertainment, a new record label borne out of the Left Field stage at the Glastonbury Festival, Everybody's Welcome to the Hooley is dedicated to the memory of Stephen Lawrence and Anthony - two black teenagers murdered because of the colour of their skin.
"Anthony loved music, and this project celebrates fighting racism by uniting people of all ages and races through music," said Anthony Walker's sister, Dominique.
Leeson O'Keeffe is a former member of Shane MacGowan's band the Popes and lead singer with Neck. He explained the thinking behind the hard-hitting art used to promote the record:
"The song's visuals draw on the image of the sign in a guest house window from London in the 60's saying NO IRISH, NO BLACKS, NO DOGS. It's a reminder to Irish people both here and back home that they've been the victims of racism down the years and that we should be in the front line of the campaign against racism and intolerance today."
Everybody's Welcome to the Hooley! is on the Militant Entertainment label (catalogue number MER1002CDS). It can also be downloaded from the Napster or Neck websites.
This document was last modified by
David Granville
on
2006-03-09 21:50:40
.
Connolly Association, c/o RMT, Unity House, 39 Chalton Street, London, NW1 1JD
Copyright © 2006 Connolly Publications Ltd