Sally Richardson reviews A Noontide Blazing: Brigid Lyons Thornton - rebel, soldier, doctor by John Cowell, Currach Press, ISBN 1 85607 918 X, £10.50/€14.99 pbk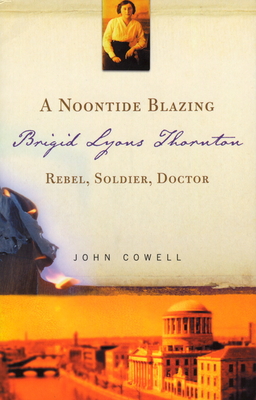 BRIGID LYONS Thornton didn't think anyone would be interested in reading her story. Her friend John Cowell (a medical doctor like her, as well as author of several books on Irish history) thought differently, and offered to write it for her. This book is the result.
Overcoming family opposition, she went up to University College Galway to study medicine in 1915, where she set up a branch of Cumann na mBan and counted Liam Mellows among her friends.
She joined the garrison at the Four Courts under the capable and inspiring command of Ned Daly at the start of the Easter Rising and later helped to set up an outpost. Her story includes an atmospheric account of the Longford by-election in 1917, where her uncle Joe McGuinness, then in Lewes Gaol, stood as the Sinn Fein candidate under the slogan 'Put Him In to Get Him Out.'
Brigid fitted in her undercover work for Michael Collins with her medical studies, and had a narrow escape from the Auxiliaries while on a train, her luggage full of ammunition.
With the outbreak of the Civil War, Brigid chose to back the Treaty, one of only a handful of Cumann na mBan volunteers to do so. Though her support was pragmatic rather than ideological it nevertheless brought her into conflict with many friends and comrades.
As an officer in the Free State Army (the only women ever commissioned in it) she was appointed as Medical Officer to Kilmainham Gaol, where she had once been a prisoner. It was "anything but a happy assignment for me", she said. Among the prisoners was her friend Kathleen Clarke, who she managed to get released.
Shortly after, she was struck down with TB. She married another patient, Eddie Thornton, and having made a good recovery spent most of her working life in the Public Health Service, where she helped greatly in the fight to eradicate devastating but common diseases such as TB and diphtheria (as did Dr Cowell himself).
Brigid's memories are sharp and vivid and Dr Cowell has filled in the historical background and clearly checked his facts, thus overcoming some of the pitfalls of oral history, which is what this, in many ways, is. He includes lengthy extracts from Brigid's own testimony and has created a lively and coherent narrative from the mass of information she gave him. It is full of new information and conveys much of the feeling and atmosphere of the period. We owe our thanks to Dr Cowell for recording Brigid's story and getting it into print.
This document was last modified by
David Granville
on
2006-02-07 12:08:22
.
Connolly Association, c/o RMT, Unity House, 39 Chalton Street, London, NW1 1JD
Copyright © 2006 Sally Richardson