Peter Berresford Ellis reviews Famine in Cork City, by Michelle O'Mahony, Mercier Press, ISBN 1-85635-455-5 €16.95.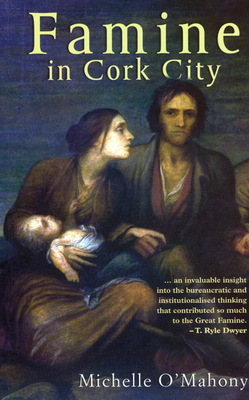 THE STORY of An Gorta Mór, the Great Hunger, is, as this book states, a very current and emotive one. I, for one, refuse to call it a famine as a famine infers there was a scarcity of food in the country and we all know - or at least we should by now - that there was enough food in Ireland to feed three times the population during the 1834-48 period. It was an artificially induced `starvation'; the result of the colonial landlord system backed by the indifference or, at worst, connivance of the British government. Between 1722 and 1844 there were at least 28 recorded such `starvations'.
The enormity of the loss of Irish men, women and children, is almost too much to encompass. To concentrate on what was happening in microcosm helps to a better understanding of the macrocosm. This work concentrates on what was happening in the Cork Union Workhouse, now St Finbarr's Hospital.
The author is a graduate of University College Cork and her postgraduate work is an in-depth study of the Cork Union Workhouse.
It is an excellent study, which I heartily recommend. It does not pretend to do anything more than examine the one workhouse, exploring the horrific events of the `famine' as it spread death and migration through the city.
On a personal level, the booking being so intimately concerned with Cork, into which my branch of the family had come from Millstreet and Doneraile at the turn of the nineteenth-century, I would have liked to have seen some in-depth reference to the political activity in Cork City at this time. Indeed, the citizens of Cork did not take matters lying down entirely.
The Cork Citizen's Club, a radical republican society, was active. This is very little known - indeed, hardly ever mentioned and my only reason for knowing it is my own family's involvement and stories handed down.
William Ellis (1807-1852), who was a stonecutter in Douglas Street, was a leading member and in May, 1844, he was a fundraiser in the city for the defence of the Young Irelanders Smith O'Brien, Meagher and Mitchel. And so stories of the period were certainly handed down to our generation, especially the story of when Smith O'Brien had come to inspect his `troops' in the Corn Market area of the city. I was able to come across a report of this in the Cork Examiner for the period.
But, such a personal quibble aside, this book does give us an invaluable insight into what the terrible years of Ireland's holocaust.
This document was last modified by
David Granville
on
2006-01-10 13:20:32
.
Connolly Association, c/o RMT, Unity House, 39 Chalton Street, London, NW1 1JD
Copyright © 2005 Peter Berresford Ellis