John Corcoran reviews A New Dictionary of Irish History from 1800 DJ Hickey and JE Doherty (eds), Gill and Macmillan, ISBN 0717 125203, €16.99 pbk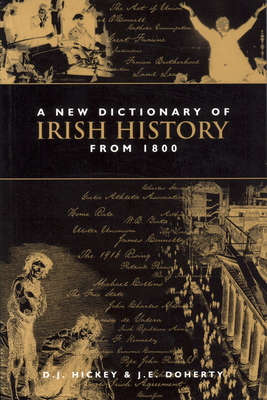 THIS IS a handy pocket edition of the hardback reference text first published in 2003. It should become a prized addition to the library of anyone with even a passing interest in modern Irish history.
The main attraction of this dictionary is the sheer breadth and depth of the references, ranging from Irish secret societies of the past 200 years, to detailed entries on Irish emigration.
The authors have certainly succeeded in abiding to Ralph Waldo Emerson's advice on a dictionary, namely that "there is no cant in it, no excess of information, and it is full of suggestion".
Written in a concise, readable format, which includes cross-referenced entries, this highly condensed book, containing 520 pages crammed with information, is more than just a cursory glance at Irish history since the eighteenth century.
For example, on pages 140 -141 entries run from Robert Emmet, The Emmet Monument Association, the Employers Federation, Employment Equality Act(1977), Encumbered Estates Act (1848 and 1849), the historic vessel the Erins Hope, to the unionist politician David Ervine. After reading all about Ervine you can relax with an entirely unconnected section on the practice of Ether drinking.
An important strength is the prominence given throughout to the events, personalities, and organisations associated with the struggle for Irish independence, a struggle which the authors pointedly say is on-going.
Noticeably, whilst detailing the various splits, breakaways, and schisms, the entry for Sinn Fein takes the reader from the party's formation in 1905 up to the Sinn Fein of 2005, reinforcing a historical lineage which the party recently celebrated. No credence given to Michael McDowell's rather bizarre musings that the right wing Progressive Democrats carry the Republican banner raised in 1905!
There is many a fascinating fact to be gleaned here, when you have the odd five minutes of reading time.
For example the entry for Ernie O'Malley (1898-1957) in just a four minute read takes you from his role in the Easter Rising, the Civil War, to his times spent in the mountains with the Basque Seperatist movements in the late 1920's, to his times living in New Mexico, to the writing of his classic books On Another Man's Wound and the Singing Flame, and then on to his election to the Irish Academy of letters in 1947.
A wealth of "suggestion" is found in this book, stimulating the appetite to delve deeper into its referred subjects and gain further knowledge. Highly recommended.
This document was last modified by
David Granville
on
2005-11-28 14:13:44
.
Connolly Association, c/o RMT, Unity House, 39 Chalton Street, London, NW1 1JD
Copyright © 2005 John Corcoran