Ruan O'Donnell reviews Irish Governments and the Guardianship of Historical Records, 1922-72 by Gerard O'Brien, Four Courts Press, £55/€55 hbk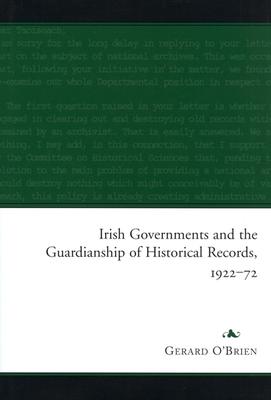 THE TITLE of this book could easily pertain to a turgid account of civil servants grappling with decades of monotonous legislation. Thankfully, O'Brien has produced a very well researched and frequently fascinating study of the vexed interplay of archivists, historians and state's interests.
The tone of the volume is surprisingly light, as if the author was conscious of dumping readers in a cul de sac of arcane minutiae.
The control of 'official' information has long encouraged governments to limit access by 'thirty-year rules', censorship, destruction or loss. It was not a mere coincidence that R J Hayes, Director of the National Library of Ireland, possessed remarkably acute code breaking talents put to good use on the 'Ultra Secret' in the Second World War.
O'Brien's book concentrates on Dublin's Public Record Office, now the National Archives of Ireland, and looks in detail at the gradual changes in organization, function and practice in Dublin's premier documentation repository.
Given the 1922 start date it is to be expected that Anglo-Irish archival disputes are raised, some of which await final resolution. Two particularly controversial examples are explored, not least the oft-debated Casement diaries.
The internal deliberations as to whether or not the existence of the diaries should be acknowledged is instructive, as is the de Valera/ Churchill exchange on the mooted repatriation of the executed patriot's body.
The early Casement dispute is well surveyed here and with a 1972 cut-off date it is unreasonable to expect O'Brien to explore its more recent manifestations. There is certainly more to be said.
O'Brien, drawing on the excellent work of senior archivist Breandan MacGiolla Choille, also re-examines the circumstances in which a major tranche of Dublin Castle files on the Fenians was moved to England in the advent of partition. The vast majority of the files were reputedly destroyed by flooding in a Whitehall basement.
Also noteworthy is O'Brien's view of the manner in which the Irish government attempted to limit access to papers concerning the 1916 Rising in 1966. It is difficult to reconcile this fact with the popular canard that the same government's handling of the commemorations willfully undermined Stormont.
O'Brien's chapter on the Bureau of Military History is an important contribution to a theme which deserves a full volume. In this case, it is a matter of praise rather than criticism to observe that the book pursues several of the lines of enquiry which warrant much further elaboration.
This document was last modified by
David Granville
on
2005-11-28 14:15:17
.
Connolly Association, c/o RMT, Unity House, 39 Chalton Street, London, NW1 1JD
Copyright © 2005 Ruan O'Donnell