Michael O'Sullivan reviews Supreme Sacrifice: the story of Eamonn Ceannt 1881-1916 by William Henry, Mercier Press, ISBN 1 85635 466 0, €16.95 pbk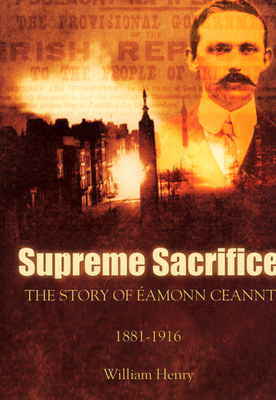 NINETY YEARS after the Easter Rising almost all of its leaders have by now been the subject of detailed biographical attention. Eamonn Ceannt remains an obvious exception. Eclipsed by the better-known personalities, little has ever appeared in print of his family background, his political views or indeed of his crucial role in the rising itself.
This book is the first attempt to tell the story of a remarkable personality and one of the most committed patriots and socialists of the twentieth century.
The author has had access to the Ceannt family records and draws on a wide range of public archive material. The result is a well-organised, readable and pioneering work, tastefully illustrated throughout with maps, documents and period photographs.
Ceannt was born Edward Thomas Kent in Ballymoe, County Galway, in 1881, the son of a constable in the Royal Irish Constabulary. The family moved to Dublin when he was ten, where he was educated by the Christian Brothers.
An accomplished musician and Irish language enthusiast, he joined the Gaelic League in 1899 and soon became a member of its governing body. This brought him into contact with Eoin Mac Neill, Patrick Pearse and other prominent nationalist figures. In 1907 he joined the Dublin central branch of Sinn Fein and was later sworn into the IRB by Sean MacDiarmada.
A social progressive, Ceannt was far to the left politically of the majority of his colleagues in the movement, and soon outgrew Sinn Fein nationalism in his support for Jim Larkin's brand of radical trade unionism.
He publicly berated Arthur Griffith for siding with the Employers' Federation during a strike on Wexford Quays and was denounced by Gaelic League president Douglas Hyde as "dangerous" and "irreconcilable". He strongly supported Larkin and the striking workers during the Dublin lock-out of 1913.
In the same year Ceannt joined the newly-formed Irish Volunteers, and helped organise the arms landing at Howth. In 1915 he formed, along with Pearse and Tom Clarke, the famous Military Council of the IRB, which planned the strategy for the rising.
The later chapters contain a vivid and moving account of Ceannt's participation in the rising, his command of the fourth battalion, their occupation of the South Dublin Union and his eventual court martial and execution.
Supreme Sacrifice is not the full biography of Eamonn Ceannt that we sorely need, but it is, for now, an admirable portrait of this unjustly neglected figure, and for that the author deserves our gratitude.
This document was last modified by
David Granville
on
2006-07-03 16:36:07
.
Connolly Association, c/o RMT, Unity House, 39 Chalton Street, London, NW1 1JD
Copyright © 2006 Michael O'Sullivan